New Patient Information from Santa Monica Dentists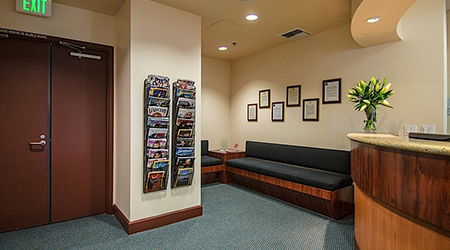 Santa Monica Dentists is accepting new patients and we accept patients with and without dental insurance. We do accept most major PPO dental plans. Even if we are not in network with your insurance provider, we are happy to see you as a patient, and our insurance experts can walk you through the details. Contact our office to find out more about your specific dental insurance provider and how their benefits work with our practice. For payment, we accept American Express, Discover, MasterCard, and Visa. Contact our Santa Monica dental office for an appointment. Santa Monica Dentists serves the greater Los Angeles area, providing beautiful, healthy smiles and dental care services for every need.
Your First Visit
If you've had a bad experience at a dental or medical practice, you may dread visiting a new office where you'll be treated like just another nameless patient, invited to sit in a sterile waiting room, and maybe get to see your doctor for five minutes at the end of your appointment. At Santa Monica Dentists, we pride ourselves on offering patients a different kind of dentistry experience. We treat patients with kindness and compassion, dedicate time to give them our undivided attention, and we only offer the highest quality services in our comfortable office. Don't settle for being a nameless customer, visit Santa Monica Dentists to build a lasting relationship with our skilled and caring team.
Patient Forms
We've all been in waiting rooms filling out a clipboard filled with forms while juggling insurance cards, prescription lists, cell phones, and trying to remember how old we were when we had our tonsils removed. We are dedicated to patient convenience, and that starts before you ever arrive. Our new patient forms are available online, and we invite patients to complete them at their earliest convenience from the comfort of home.
New Patient Forms Existing Patients
Insurance Welcome!
We're happy to process and file insurance claims for most major PPO benefit plans. Our goal is to maximize coverage for patients, and partner with them in choosing the treatment option that is best for their unique needs. If you have questions or concerns about your coverage, don't hesitate to contact our knowledgeable team.
Where can I park?
There is free street parking available in the neighborhood as well as metered parking available near the building. There is paid parking available underneath the building. You can enter the building parking lot off of Harvard, just south of Wilshire.