Restorative Dentistry for Santa Monica, CA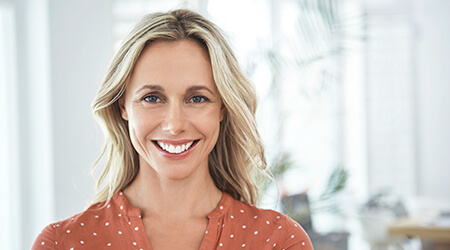 Teeth and gums can encounter all kinds of damage through the years. Some of the most common problems include cavities and broken or missing teeth. These problems can lead to discomfort, loss of functionality, and dwindling self-confidence. At Santa Monica Dentists, we're happy to offer comprehensive restorative care for these issues, so your oral health can get a new lease on life. Our restorative solutions marry the best of cosmetic dentistry with quality and strength to help you enjoy greater health and beauty.
Restorative dentistry is an umbrella term for a wide range of dental procedures, all of which are designed to stop and reverse damage associated with decay, injury, and disease. Because of our dedication to comprehensive care, our Santa Monica practice offers a diverse range of solutions.
Because every patient has different needs, your treatment will begin with a full oral exam and consultation. The purpose of this initial step is to understand your specific needs so we can design the most personalized and comprehensive treatment plan possible. If you have questions about any part of what we recommend, we'll be happy to answer them for you. We want you to have a full understanding of your needs and the solutions available to you.
Santa Monica Dentists offers a wide range of services and has surgical and endodontic specialists on staff to provide experienced, targeted restorative dental care. Call us today to reserve your consultation exam. We serve patients from Santa Monica and all over the greater Los Angeles area.
Metal-Free Fillings
As with crowns, fillings are used to help patients treat a decayed tooth. Fillings literally "fill in" the area that was once occupied by decay, preventing it from spreading further. In the past, dentists used fillings made of silver, mercury, and other metals, but today metal-free fillings are the standard. Metal-free fillings are also known as tooth-colored fillings because the material they're made from—composite resin—can be shaded to match your smile's natural color.
Crowns & Bridges
Dental crowns are restorations that fit completely over the top of a damaged or decayed tooth. We recommend crowns for a number of reasons including repairing damaged or decayed teeth, concealing cosmetic flaws, fortifying root canal treated teeth, and replacing one or more consecutive missing teeth. Our skilled dentists offer high quality, natural looking and feeling dental crown restorations.
Root Canal Therapy
We have great news. Root canals are not the painful, fear-inducing treatment even our bravest patients believe them to be. In fact, root canal therapy significantly relieves toothache pain, and allows patients to preserve their natural tooth structure. Our team has years of experience working with patients to provide safe, effective root canal therapy.
Sedation Dentistry
Does the thought of going to the dentist fill you with anxiety or dread? With a service known as sedation dentistry, we help patients exactly like you overcome those negative feelings to have a completely new kind of experience. If you have questions about this helpful solution, let us talk to you about your sedation options. We never want anyone to put off or avoid essential care because of anxiety.
Wisdom Tooth Removal
Wisdom tooth removal is one of the most common oral surgeries, performed on most people at some point to alleviate problems with their wisdom teeth. When your wisdom teeth fail to erupt or they develop improperly, it can cause a number of functional issues with your wisdom teeth themselves or surrounding teeth. A partially erupted tooth can leave you open to a higher risk of gum disease or infection. At Santa Monica Dentists, we can perform your wisdom tooth removal.
Sleep Apnea Consultations
Do you struggle with daytime drowsiness or accidents at work, in your home, or behind the wheel? Do you have difficulty remembering things or struggle to concentrate? These are all signs of a condition known as sleep apnea. Patients with sleep apnea routinely stop breathing while asleep, forcing them to wake up to take a breath. Sleep apnea patients are also prone to loud snoring. Consequences of sleep apnea include inability to focus, lack of performance at work, memory loss, weight gain, higher risk for developing high blood pressure, heart disease, diabetes, and car accidents, and it can even start to affect the quality of your relationship with your "significant other." At our Santa Monica office, our dentists have performed hours of advanced training on this condition, and depending on your needs, we can help you tackle this condition and get you to the right sleep specialists for an improved night of sleep and improved quality of life.